The Hotel Adlon is a luxury hotel in the centre of Berlin and perhaps the most famous hotel in Germany. The large hotel is located on Pariser Platz opposite the Brandenburg Gate.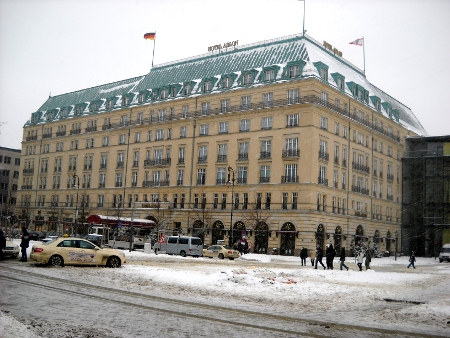 Hotel Adlon Berlin
The Hotel Adlon was first opened in 1907. During the Second World War it was heavily destroyed and hardly used during the time of the GDR, later even completely demolished. After the reunification, the hotel was rebuilt at the old location. Since its reopening in 1997, Hotel Adlon has returned to what it used to be – the best and finest hotel is Berlin. Also the restaurants in the Hotel Adlon are world famous since the 20s. Next to the Hotel Adlon in the same building complex is the British Embassy.
How to get to Hotel Adlon: The nearest underground station is Brandenburger Tor. The Reichstag (seat of the Bundestag) can be reached on foot in a few minutes and many attractions in the Boulevard Unter den Linden such as the wax museum Berlin.
Links: The ancient excavation Herculaneum near Pompeii (south of Naples). Overview of museums in Florence, one of the most important museum cities in Europe.