The Dahme is an approximately 100 km long river in Brandenburg and Berlin. The Dahme flows into the Spree in Berlin-Köpenick. In the kilometres before the mouth, the Dahme is so wide in many places that the body of water is called a lake and no longer a river.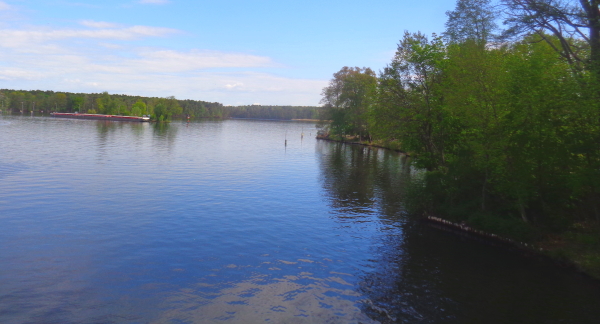 The beginning of the Dahme is in the federal state of Brandenburg near the small town of Dahme. Already in Brandenburg, the Dahme flows through several very large lakes. Lake Zeuthen is already partly in Berlin. Most of the river in Berlin passes through Langer See, a body of water 11 km long and several hundred metres wide (see our Langer See Berlin page). The Lange See is connected to other large lakes such as the Seddinsee (see our article Seddinsee Berlin) or to the Zeuthener See and the Crossinsee. This makes the area very popular with yacht owners and water sports enthusiasts. In addition, the Dahme in Berlin is a waterway, even for larger ships.
Great boat tour for tourists Berlin (1 hour)
Every day in the season thousands of tourists take a trip on an excursion boat in the center of Berlin. By far the most popular tour starts in the center of Berlin and passes many sights such as government district with Reichstag and Chancellery, Museum Island and Berlin Cathedral. The excursion by ship lasts about 1 hour and costs 18 euros. You should definitely book online, with a guarantee of a seat:  
At the end of Langer See, the Dahme flows into the Spree right next to the old town of the Berlin district of Köpenick (known throughout Germany for the Captain of Köpenick). The Spree then flows through the centre of Berlin and into the Havel in the west of the city. The Havel flows into the Spree, and the waters of the Dahme thus reach the North Sea at Cuxhaven.