The Brandenburg Gate (Brandenburger Tor)  is probably the most famous building in Berlin. In times of the Wall it was the symbol of the separation between East and West, today it is the landmark of the city and the Federal Republic of Germany.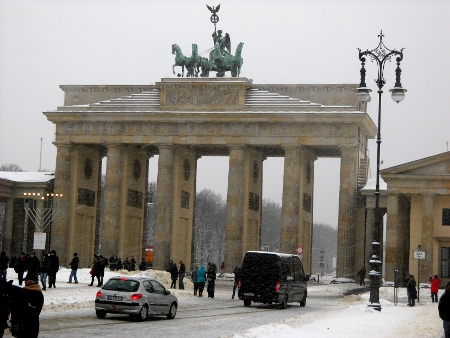 The Brandenburg Gate was built by the architect Carl Gotthard Langhans around 1790. It was commissioned by King Friedrich Wilhelm II. A few years later, the quadriga, manufactured by Johann Gottfried Schadow, was placed on the gate. The Quadriga (see picture below) is a quadriga consisting of four horses, a carriage, an iron cross and an eagle.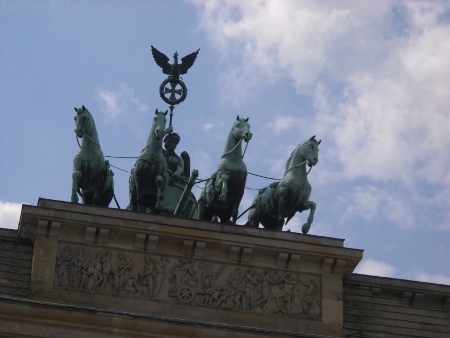 The Quadriga at the Brandenburg Gate
Approach Brandenburger Tor
The Brandenburg Gate has its own underground station. The well-known bus line 100 from Berlin also stops nearby (in Scheidemannstraße, stop Reichstag / Bundestag).
Near the Brandenburg Gate
The Reichstag (Bundestag), the boulevard "Unter den Linden" with the Pariser Platz and many other sights in Berlin Mitte can be reached from the Brandenburg Gate in a few minutes on foot.
Furthermore there is an office of the Tourist Information Berlin (Tourist Info) at the Brandenburger Tor. Next to the Brandenburg Gate are the US Embassy, the French Embassy and the British Embassy in Germany.
Another top sights near the landmark Brandenburg Gate is Berlin's most famous hotel, the Adlon. Opposite in the park Tiergarten is the Sinti and Roma monument. Seen from Brandenburger Tor behind the Reichstag is the Federal Chancellery and, just one kilometre away, the modern Berlin main station. Further back in Tiergarten you will find the Gemäldegalerie, the seat of the Federal President Schloss Bellevue and the Haus der Kulturen.
Not far from the famous gate Brandenburger Tor on the boulevard Unter der Linden on the left is another well-known and well-visited sight: the wax museum Madame Tussauds.
Less than half an hour on foot from Brandenburger Tor are the Berlin Zoo with Aquarium and the Kaufhaus des Westens, the largest department store in Germany.
Other article in english: Brandenburger Tor Berlin