The Berlin subway is the largest underground public transport system in Germany. Especially in the west of the German capital, the subway is the most important means of public transport. The network consists of 170 stations and 9 lines. About half a billion times a year people get on and off a subway in Berlin. This corresponds to more than one million passengers a day. The length of the subway network is about 150 kilometers.
Great boat tour for tourists Berlin center (1 hour)
Every day in the season thousands of tourists take a trip on an excursion boat in the center of Berlin. By far the most popular tour starts in the center of Berlin and passes many sights such as government district with Reichstag and Chancellery, Museum Island and Berlin Cathedral. The excursion by ship lasts about 1 hour and costs 18 euros. You should definitely book online, with a guarantee of a seat: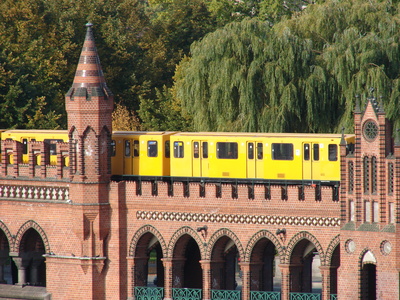 The Berlin subway is over 100 years old and the oldest subway in Germany. In 1902, the first train left the city centre for Charlottenburg. Already before the 2nd World War the network reached a stately size. During the time of the Wall, the network was expanded much more in the west of Berlin than in East Berlin. Less money was available in the east and more emphasis was placed on expanding the tram network. The network was divided, some stations did not stop. Only the station Friedrichstraße was used by East and West. Below the station was the most important border crossing between the two parts of Berlin. After reunification, the Berlin underground networks were reconnected. At present, only the U5 is still under construction. From around 2022 it will connect Berlin's main railway station, the Bundestag and the Brandenburg Gate with the east (e.g. Alexanderplatz).
The color of all subway trains in Berlin is as far as I know monochrome yellow (some also orange-yellow). This makes it easy to distinguish the cars and trains of the subway from the S-Bahn (ochre with red lines).
For most tourists it is worth buying the Berlin Welcome Card. On the one hand, it is a ticket for local transport. The ticket is also a discount card for many attractions and sights in Berlin. You can buy the Welcome Ticket on the Internet before you travel to Berlin. There are different tickets available for 2 days to 6 days.     >>>  Here you will find more information and the possibility to order the Welcome-Ticket.
The nine lines of the Berlin Underground are numbered from U1 to U9. Currently there is an additional line called U55. The U5 is under construction and consists of two sections that are not yet connected. The smaller part is temporarily called U55. After the complete completion of the U5 the whole subway line will carry the name U5.
See also article:  S-Bahn Berlin and Tram Berlin