The Wannsee is the second largest lake in Berlin after the Müggelsee and is a very popular day trip destination for the citizens of Berlin. What Müggelsee is for the East Berliners, Wannsee is for the West Berliners. Since the fall of communism, all Berliners have fortunately been able to visit both lakes.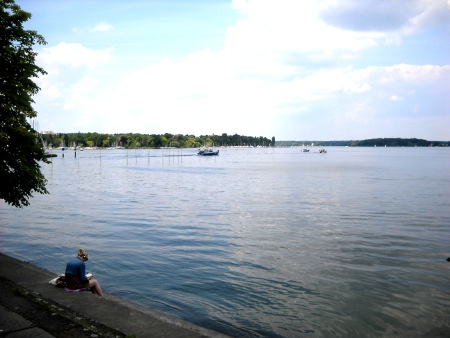 Wannsee in Berlin
Wannsee is several kilometres long and almost 2 kilometres wide. It is directly connected to the river Havel and is actually only a wide bulge of the river. Bathing and swimming is very popular in Wannsee in summer. There are even large beach baths and the like. Maybe even more popular are boat trips with big ships on the Wannsee and the Havel. An important jetty is not far from the Wannsee S-Bahn station (see picture below).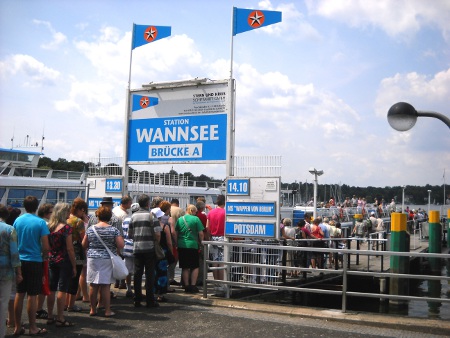 jetty ferries Wannsee
Under the Berlin upper class it is considered chic to own a yacht or a larger boat on the Wannsee. Many less wealthy Berliners have a small round, sailing or motor boat on the lake. Hundreds of boats operate on the Wannsee and the Havel in summer. Also gastronomically there is a lot going on around the Wannsee. There is everything – from a luxury restaurant to a typical Berlin curry sausage stand.
Besides the actual Wannsee (Großer Wannsee) there is also the Kleiner Wannsee. This is actually much smaller than the big lake. The two Wannsee lakes are connected to each other. A road bridge runs across the water connection, a few hundred metres south of Wannsee railway station.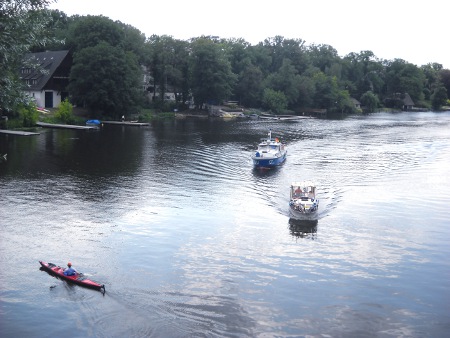 One of the most beautiful inhabitants of Wannsee is a new species of duck from Asia, the mandarin duck. Probably the most colourful bird in Berlin.
How to get to Wannsee: Two S-Bahn lines run from Berlin city centre to Wannsee. The S7 runs via Ostbahnhof, Hauptbahnhof and Bahnhof Zoo via Wannsee to Potsdam. The S1 runs from Friedrichstraße and Potsdamer Platz station to the lake. From Wannsee it is not too far to Potsdam. Thus, the Wannsee and Potsdam can be easily connected in a day trip. If you want to get to the lake from Berlin main station or from the Zoo station, you can also take a regional express of the Deutsche Bahn. These stop less often and are slightly faster than the S-Bahn.
Near the Wannsee
The car-free island Pfaueninsel is only a few kilometres away from Wannsee. There is a bus that goes opposite the S-Bahn station Wannsee to Pfaueninsel. The Wannsee can also be easily connected with a trip to Potsdam. It's the same direction – the two popular day trip destinations are south-west of Berlin.
The island Lido Venice and ferries to Lido. A great island near Venice.