There are many museums in Berlin, one interesting one is the Gay Museum (German: Schwules Museum). Schöneberg has long been something of a gay centre in the capital, especially the area around Nollendorfplatz and Motzstraße is well known. The Gay Museum is a good 500 metres from Nollendorfplatz.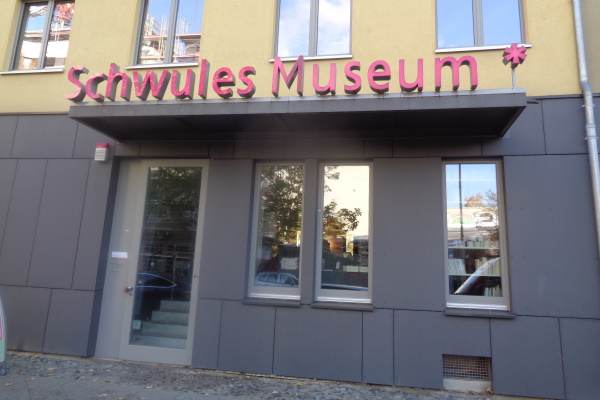 The Gay Museum in Berlin has been around since 1985, formerly in Kreuzberg. In 2013 it moved to Schöneberg to Lützowstraße 73. Actually, this is already the district of Tiergarten and no longer Schöneberg.
The 4 most popular tickets for Berlin for 2023
1. TV Tower ticket: At Corona times, you can only go up to the highest building in Germany only by reservation (online tickets). At other times very often long waiting times without reservation: Link to the Tickets
2. Boat tour on the river Spree passing great sights (1 hour):  Link to the Tickets
3. Hitler-Bunker and Story-Museum: One of the most popular attractions in Berlin. Made a strong impression on us: Link to the Tickets
4. Ticket Illuseum Berlin: Great, modern museum about optical illusions, currently a hit in Berlin: Link to the Tickets
There used to be a larger permanent exhibition in the Gay Museum as well. The topic was gay history of the last 200 years, especially in Berlin. Today, you can find mainly temporary exhibitions on different topics of homosexuality. Works of art such as paintings are also usually part of the exhibition. A new permanent exhibition is planned (as of summer 2019). The Gay Museum Berlin has 4 rooms, often there is a different exhibition in each room for a few months.
At the entrance there is a small shop with books, postcards, stickers and much more on the theme. We think the small museum is absolutely worth a visit. You quickly get into conversation with the staff and other museum visitors. There are also guided tours, Thursday at 6 pm and Saturday at 4 pm even free of charge. The exhibition can be visited by people in wheelchairs without any problems.
Admission Gay Museum Berlin 2022
The normal entrance fee is 7.50 euros, there is a reduction for students, the unemployed, etc. (4 euros)
Opening hours Schwules Museum Berlin 2022
Sunday, Monday, Wednesday and Friday from 2pm to 6pm.
long Thursday 14-20 h, Saturday 14-19 h
Tuesday the exhibition is closed
Directions and address
Lützowstraße 73, 10785 Berlin
The two underground stations Nollendorfplatz and Kurfürstenstraße are just under 10 minutes away on foot.