Köpenick is a district of Berlin that looks more like a small town. It is located about 15 km east of the city centre on the site of the former East Berlin. Köpenick is known throughout Germany for the famous story of the Army Captain of Köpenick.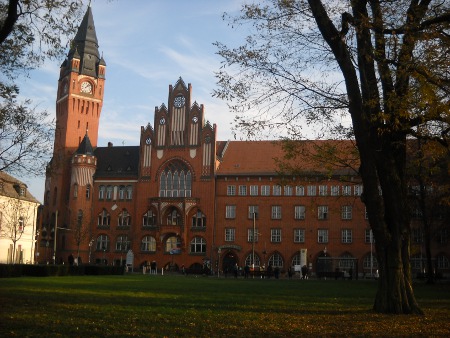 City Hall Köpenick
The district of Berlin can be reached with the Berlin S-Bahn (City overground trains). A few years ago, a new, large shopping centre was built at the station – the Forum Köpenick. Here, in front of a bookshop, you meet the Captain of Köpenick for the first time – in the form of a life-size bronze figure.
If you walk down the long Bahnhofstraße, you will reach the city centre via a wide bridge (on the left). If you don't want to walk the almost two kilometres, you can take one of the frequent trams (approach directly in front of Forum Köpenick).
The first highlight in the city centre is the large town hall (see picture above). In the red brick building, shoemaker and professional criminal Wilhelm Voigt, dressed as a captain, arrested the mayor and tricky plundered the city treasury of the former town of Cöpenick. At the entrance of the town hall stands the famous bronze figure, probably the most famous landmark of today's Köpenick. The true story took place in 1906, Carl Zuckmayer wrote a comedy in the 1930s. Even more famous is the film "The Captain of Köpenick" with Heinz Rühmann in the leading role as Wilhelm Voigt from 1956.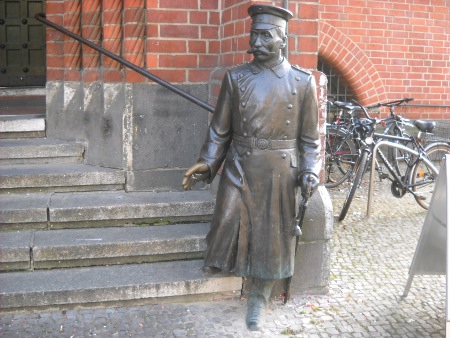 Captain of Köpenick
Another highlight of a day visit to Köpenick is the castle (picture below), one of the most beautiful baroque buildings in Berlin. In the castle Köpenick is today among other things the Kunstgewerbemuseum Berlin. The small, beautiful Schlosspark (baroque garden) is situated on a peninsula. Here the 100 km long river Dahme flows into the Spree. The castle lies directly in the centre of Köpenick, about 200 metres south of the town hall.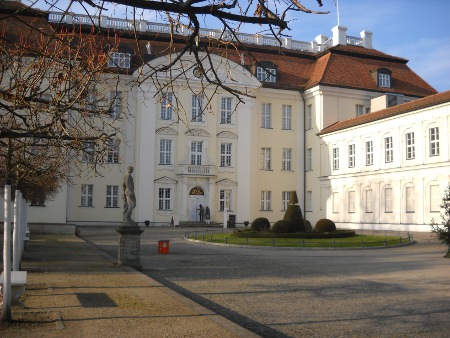 Köpenick Castle
In Köpenick you should also take a walk along the river Dahme. Many excursion boats depart from here. The ships, which are especially popular in summer, take you all the way to the centre of Berlin. Many Berliners take a day trip to Köpenick by boat. A few kilometres east of Köpenick there are larger lakes and forest areas. There are some hiking trails. We even saw wild boars there.
A very good restaurant of the upper class in Köpenick is the Schlosscafe in the Schlossgarten. The Ratskeller Restaurant in the town hall described above has a very good price/performance ratio and delicious, original Berlin dishes.
Directions to Köpenick: From downtown Berlin (Hauptbahnhof, Alexanderplatz, Ostbahnhof) you can take the S-Bahn 3 to Köpenick every 10 minutes (every 10 minutes during the day).