The Berlin tramway currently has a network length of almost 200 kilometres. 22 lines operate in Berlin. The number of passengers on the Berlin tram is almost 170 million per year. There are currently almost 400 tram stops in Berlin.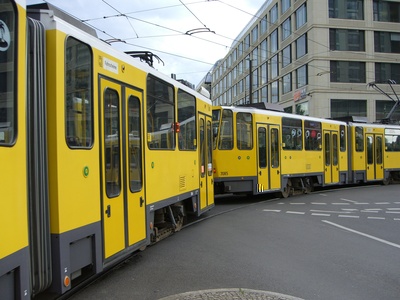 Tram in Berlin
The Berlin tramway thus has by far the largest tram network in Germany and Europe. The trams run almost exclusively in the eastern part of Berlin. At the time of German reunification, there were no more trams in West Berlin. After the fall of communism, two lines were extended to the western part of the city. While in the time of the division of Germany in West Berlin the expansion of the subway was fully supported and the trams were gradually shut down, in the GDR trams were fully used due to lack of money. Melbourne in Australia has the longest tram network in the world. The network in the Australian metropolis has more than 1000 stops!
Berlin had the world's first electric tram. It was first used in 1881. The greatest period of the Berlin tram was between the two world wars. Around 1930 there were almost 100 lines in Berlin and a network of about 600 km – more than three times more than today. After the Second World War, the network in the West was gradually replaced by subways and buses. In East Berlin (GDR), on the other hand, the network was even extended. Many believe that replacing trams in West Berlin in the 60s to the 80s with buses (not subways) was a mistake. There are plans to build more trams in the west as well. This is especially true for urban areas in Berlin, where there is not enough traffic for a subway – but buses are overloaded. Trams also have another major advantage over buses: because they are electrically powered, they produce no exhaust fumes, at least on site.
Today, there are 22 tram lines in Berlin (as of 2010). The most important 9 lines are now called Metrotram lines. They have the designation M1 to M17 (some numbers in between do not exist). These nine lines also run at night. The other 13 lines only run during the day and partly in suburbs far away from the city centre such as Rahnsdorf am Müggelsee or Ahrensfelde. The big lines meet in the centre of Berlin, others also partly run between the suburbs. Starting in 2014, trams will also run to the new Berlin main station.
All trams in Berlin are built in standard gauge (same gauge as Deutsche Bahn). The BVG tickets are valid in all of them. So you can change between buses, trams, suburban trains Berlin and underground trains in Berlin with one ticket.