The Havel is a 300 kilometre long river in the east of Germany and is one of the most important rivers flowing into the Elbe – the Havel flows through the west of Berlin, where the Spree also flows into the Havel. The Havel flows through many large lakes in Berlin and Brandenburg. In Berlin, these are especially Lake Tegel and Lake Wannsee, the second and third largest lakes in Berlin.
Great boat tour for tourists Berlin (1 hour)
Every day in the season thousands of tourists take a trip on an excursion boat in the center of Berlin. By far the most popular tour starts in the center of Berlin and passes many sights such as government district with Reichstag and Chancellery, Museum Island and Berlin Cathedral. The excursion by ship lasts about 1 hour and costs 18 euros. You should definitely book online, with a guarantee of a seat: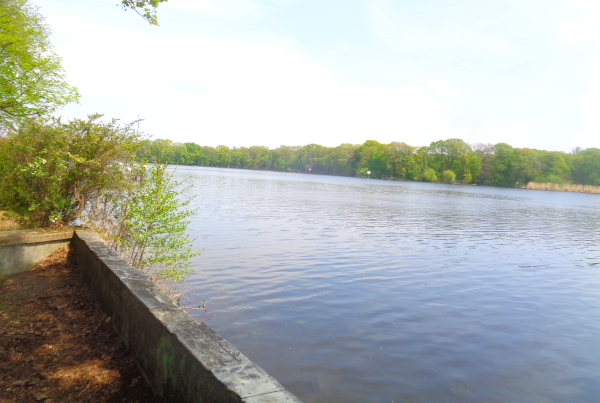 The Havel is a wide river with a lot of water flowing through it. This is especially true after the Spree flows into the Havel in Berlin-Spandau.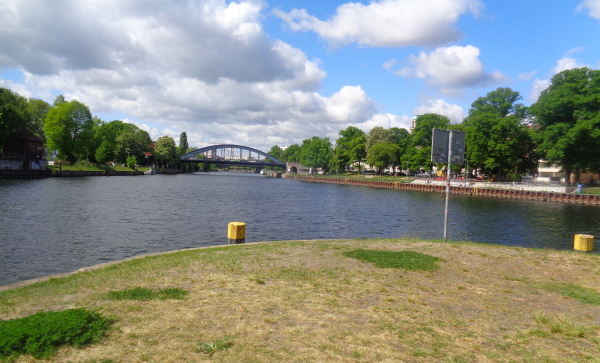 Confluence of the Spree (left) with the Havel (right), both rivers are about the same size.
In the north of Berlin, the Havel flows through the large Tegeler See lake. Further south of the capital, the waters of the Havel flow through the almost equally large Wannsee, the best-known bathing lake in Berlin.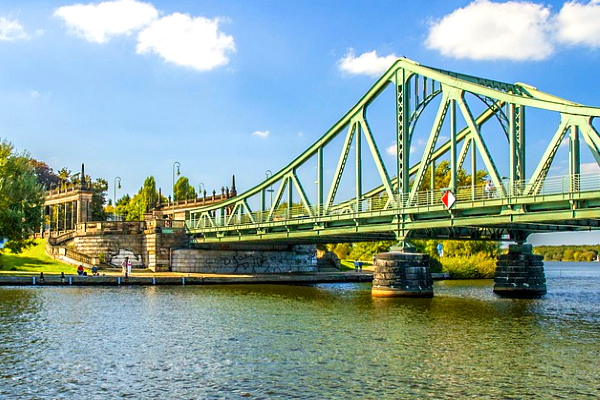 There are several bridges in Berlin over the Havel. The most famous is the last bridge in Berlin over the Havel in the south of the city. The Glienicke Bridge used to be the border between West Berlin and the GDR. Agents were exchanged and the like over the structure.
The banks of the Havel in Berlin are largely a recreational area. This applies, for example, to the large forest Grunewald or the Pfaueninsel, a great island in the southwest of Berlin for an excursion.
The Havel river varies in width in Berlin. There are not bridges everywhere, but also ferries across the Havel, for example in Tegelort or a public ferry across the Wannsee.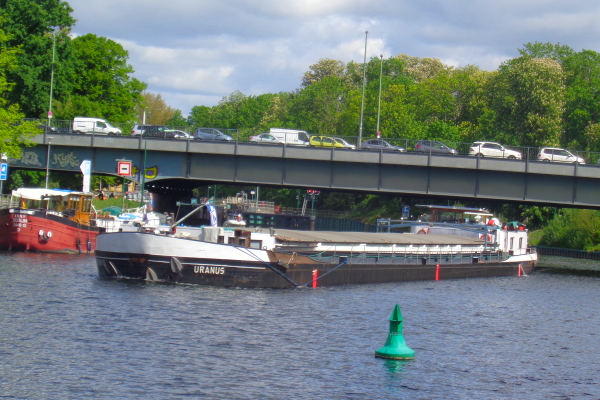 A cargo ship on the Havel in Berlin
Overview of major rivers Berlin: There are three rivers. The Dahme flows into the Spree in the east of Berlin. The Spree crosses the centre of Berlin and flows into the Havel in the west of the city. The Havel flows into the Elbe, which flows into the North Sea. All 3 major rivers in Berlin are navigable.