"Krumme Lanke" is the name of a lake in the south-east of Berlin. The body of water and the surrounding area is a great recreational area. Bathing in Krumme Lanke is very popular, there are small bathing bays in many places. You can walk around the lake on a wide path in about an hour. The surrounding area consists of forest.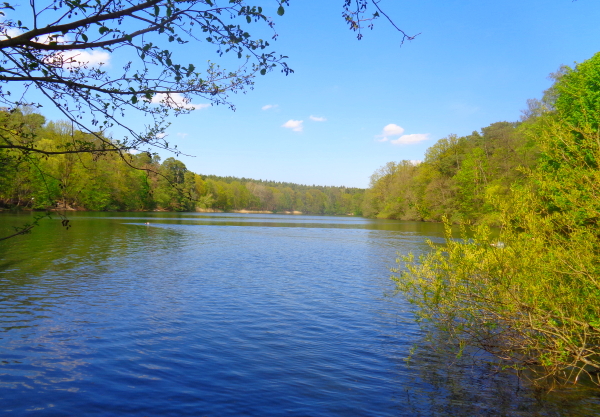 Krumme Lanke is in the southern Grunewald, one of the largest forests in Berlin. The district of Zehlendorf is right next to the lake. This means that Krumme Lanke is also easy to reach by underground. The footpath around the lake is wide and level, and you can also walk around the lake with a pram without any problems.
Great boat tour for tourists Berlin (1 hour)
Every day in the season thousands of tourists take a trip on an excursion boat in the center of Berlin. By far the most popular tour starts in the center of Berlin and passes many sights such as government district with Reichstag and Chancellery, Museum Island and Berlin Cathedral. The excursion by ship lasts about 1 hour and costs 18 euros. You should definitely book online, with a guarantee of a seat:  
There are small bathing bays in many places. It often gets very crowded here in summer. It gets crowded, Krumme Lanke is a popular bathing lake in Berlin, a city of millions, and the sunbathing areas at the lake are not too big.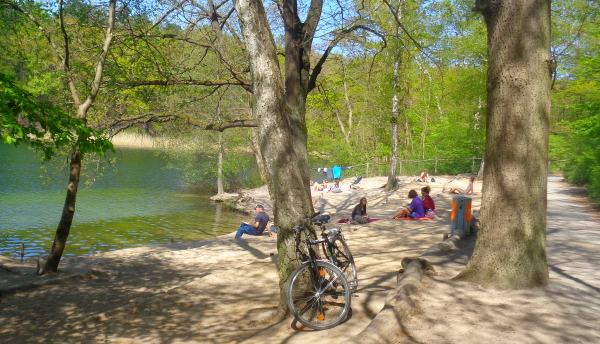 The path around the lake is especially popular with walkers and joggers. It is wide and easy to walk. The great footpath around Krumme Lanke is about 2.5 kilometres long (i.e. a little more than half an hour's walk). In summer, you are largely protected from the sun by trees. Water sports are also possible on Krumme Lanke.
How to get to Krumme Lanke: Take the U3 underground to the southern terminus. Exit the station and turn right up the street by the hospital (Fischerhüttenstraße) for about 500 metres and you are at the lake. It is easy to find a parking space in the area, except in high season.
Name Krumme Lake: Lanke is a common name for a body of water in eastern Germany. The lake is elongated and curved (banana-shaped).
Food Krumme Lanke: Not far from the south shore there is a snack bar, the "Alte Pommesbude". Good Berlin currywurst, chips, drinks and more, not expensive. At Krumme Lanke station, 500 metres from the lake, there are kebabs, a Chinese snack bar and a REWE supermarket.
Surroundings of Krumme Lanke: You can quickly walk to the large neighbouring lake Schlachtensee. It is south of Krummen Lanke. At the even better-known Schlachtensee, a similar path leads around the lake, but it is more than twice as long. From Krummen Lanke, you simply walk along the canal that leaves the lake on the south shore. After about 500 metres you are at Schlachtensee.