Tempelhof Airport is a former commercial airport in Berlin, which was in operation from 1923 to 2008. During all this time it was a very important airport in Berlin. Today the area of about 3 km² is a gigantic leisure area. Tempelhof was Berlin's major airport in the NACI era. Also the supply of Berlin during the GDR blockade of West Berlin for 11 months from 1948 to 1949 was a great time for Tempelhof Airport.
Almost nothing was demolished after the end of Tempelhof Airport in 2008. Most of the buildings and the large hangars have been preserved. You can visit some buildings on frequent tours (guided tours). These can be booked on the Internet.   >>>  On this link you can book the tour
Guided tour Tempelhof Airport
A tour through the former commercial airport is very popular and exciting. For quite a few Berlin tourists it is one of the highlights of the trip. One sees and learns a lot about the history and the use of the airport in the south of Berlin. It is easy to get there by underground. The guided tours have very good reviews on the internet, almost all participants found the tour very good.
The buildings are gigantic. During the NEOC period, Tempelhof Airport was used and expanded a lot. It was the most important landing field for the 11-month airlift to supply Berlin after World War II. Huge quantities of food, coal and much more were delivered to Berlin by airplanes.
You can find out more during the guided tour of Tempelhof Airport. Booking and more information  on the great website Getyourguide.
Tempelhof Field
The former site of Tempelhof Airport is called Tempelhofer Feld (Tempelhof Field). It is now a recreational area.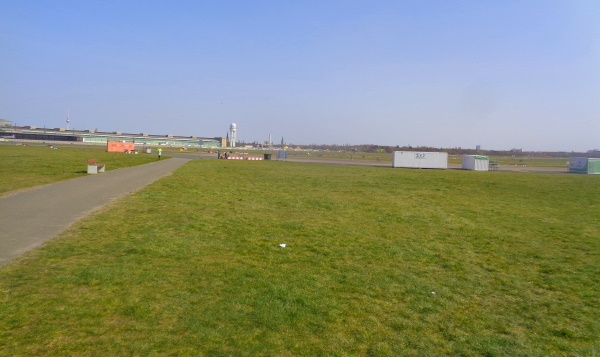 A lot of people come here to cycle, with inline skates, skateboards and the like. There is also a meadow for wind sports. Many Berliners also come here to go for a walk or to go kite flying etc. The biggest part of the former airfield consists of short lawns. Much, like the former runway etc., is also concreted or asphalted.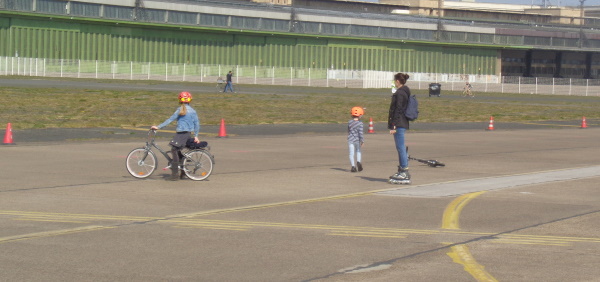 You should definitely take a walk on the huge open space in the middle of Berlin before or after the guided tour through the Tempelhof airfield.
Directions to Berlin-Tempelhof Airport
The best way to get there is by subway. If you want to take part in the guided tour (Tour Flughafen Tempelhof), we recommend the underground station "Platz der Luftbrücke" of the U6 line. It is only a few minutes walk to the starting point of the tour through the former Airport Tempelhof. Arrive in time and check the place where the tour starts.
You can also come with your own car. There are parking lots in the area, although not always enough.