Brecht-House Berlin and Dorotheenstädtischer Cemetery
The Brecht-Haus Berlin is located at Chausseestraße 125 in the centre of Berlin – about halfway between the central railway station and Alexanderplatz. At the time of the division of Germany, the street was in East Berlin. Bertolt Brecht lived and worked here from 1953 until his death in 1956.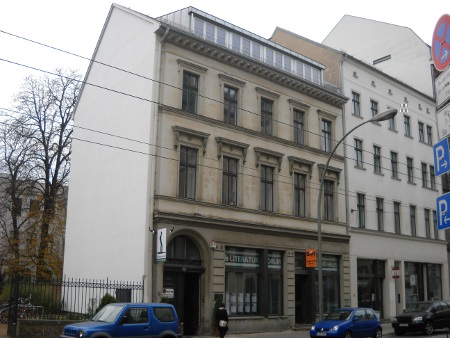 Brecht-House
Not only Brecht himself lived in today's Brecht-Haus, but also his wife for many years, Helene Weigel (marriage 1929). Weigel had a great influence on Brecht's work. Helene Weigel stayed in the house until her death in 1971. The couple lived in the back part of Brecht's house in Berlin. On the ground floor there is a small exhibition room. Pictures and biographies of Bertolt Brecht and Helene Weigel hang on the walls. The actual living rooms can only be visited as part of a small guided tour (several times a day).
Great boat tour for tourists Berlin (1 hour)
Every day in the season thousands of tourists take a trip on an excursion boat in the center of Berlin. By far the most popular tour starts in the center of Berlin and passes many sights such as government district with Reichstag and Chancellery, Museum Island and Berlin Cathedral. The excursion by ship lasts about 1 hour and costs 18 euros. You should definitely book online, with a guarantee of a seat:  
The Literatur-Forum in the Brecht-Haus Berlin is located in the front building. The Forum's extensive programme includes book reviews, book premieres, literature readings, seminars, film screenings and much more.
At their own request, the Weigel/Brecht couple are buried in the Dorotheenstädtischer Friedhof (cemetery) directly next to the house. Even today many people come to the double grave every day. Georg Wilhelm Friedrich Hegel also found his last resting place at the Dorotheenstädtischer Friedhof (cemetery address: Chausseestraße 126). Next door is the French cemetery, also with graves of many other celebrities (Chausseestraße 127).
Directions Brecht-Haus Berlin: U-Bahn 6 Naturkundemuseum or Oranienburger Tor. The Natural History Museum Berlin is only a few minutes walk away.
Opening hours (guided tours) Brecht-Haus Berlin: Three originally furnished rooms can be visited. There are several guided tours every day between 10 am and 11:30 am, except on Mondays and public holidays. Tue and Sat also in the afternoon until about 15 o'clock, Thu and Sun even until about 18 o'clock.
Museum of Natural History Berlin Opening Hours – Berlin Cathedral Opening Hours – Castle Charlottenburg Opening Hours – Opening Hours Reichstag – Opening Hours Zoo Berlin