Alexanderplatz (also called "Alex" by many) is one of the most important squares in the centre of Berlin.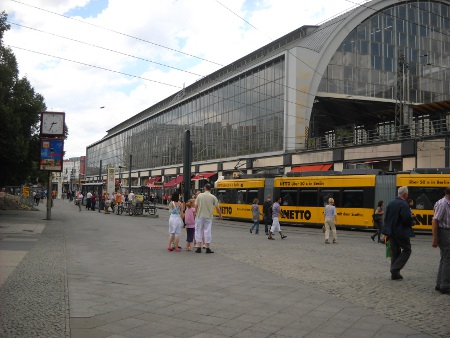 The Alexanderplatz is named after the Russian Tsar Alexander I. In the GDR the square was one of the most important squares in East Berlin. Before the division of Germany, Alexanderplatz was the central square of the city. The square became famous throughout Germany through the novel and bestseller Berlin Alexanderplatz: Die Geschichte vom Franz Biberkopf by Alfred Döblin from 1929.
Even today, the Alex is again the centre of Berlin for many Berliners. Today Alexanderplatz is a pedestrian zone. Many department stores and large shops are located on and around Alexanderplatz. Many visitors also visit the stores of Primark, Saturn and Mediamarkt.
The famous TV Tower on Alexanderplatz
The towering building around Alexanderplatz is the Fernsehturm Berlin. At 368 metres, it is still the tallest building in Germany and significantly higher than the Olympic Tower in Munich, which has "only" 290 metres to offer. Two elevators take visitors to the top in less than a minute. At the top there is a viewing platform and a restaurant. There is probably no other place from where you have a better view over Berlin.
>>> Our new page about the TV Tower Berlin (all infos)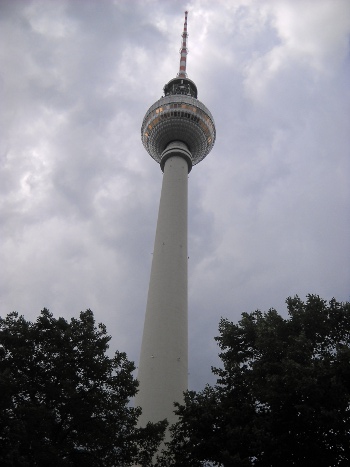 Opening hours television tower Berlin at Alexanderplatz (mid 2017): The tower is open daily from 9 to 24. In winter the opening hours are one hour shorter (10 a.m. to midnight, November, December, January and February).
Admission prices TV-Tower Berlin (as at beginning of 2019): Adults pay 16.50 euros, children 9.50 euros. There is a reduction on admission to the Fernsehturm am Alex for students with student ID (20%). Often there are very long queues and waiting times at the entrance. But you can book the entrance ticket for the Fernseh-Turm Berlin in advance. It often makes sense to buy a ticket in advance on the Internet. So-called skip-the-line tickets (tickets without waiting) are becoming more and more popular in Berlin for the big sights. Such preferred tickets can be found on this website. We liked Berlin from above at night at least as much as the view from the TV Tower during the day. By the way, the TV Tower is the tallest building in Germany. The panorama from above is magnificent. We think that the trip to the sightseeing TV Tower at Alex is more worthwhile than many other attractions in the capital.
>>> Our new page about the TV Tower Berlin (all infos)
Approach Alexanderplatz
No place in Berlin has a better transport connection, not even the main station Berlin. Several underground lines cross at Alexanderplatz. There are also several S-Bahn lines and many tram lines to various destinations, especially in East Berlin. The very frequent bus with the inscription "TXL" runs from Alexanderplatz to Tegel Airport. Other bus lines (100 and 200) are especially interesting for tourists as they stop at many sights in Berlin.
Other website: Television Tower Berlin