The Trabi-Safari is a city tour through Berlin in the former GDR national car Trabant. You drive through Berlin in a convoy, 2-3 people sit in a Trabi. In the first car of the Trabi-Safari sits the city guide, who informs about the sights and buildings by radio. The drivers of the other Trabants are participants of the tour. So you experience 2 things at once: A city tour through Berlin and you can drive a Trabi once in a lifetime. The tour is in German and English.
The Trabi safari takes place several times a day. You should definitely book in advance on the Internet, as the Trabant tours through Berlin are very popular: Links for booking in the yellow box. Hardly any city tour in Berlin gets better ratings from participants, the Trabi-Safari is cool, well done and a special experience
It is really fun to drive such a simple car like a Trabant for once. The manual gearbox and other special features are of course explained to the participants of the "Safari" in detail beforehand. Nobody expects that you have ever driven the GDR car before.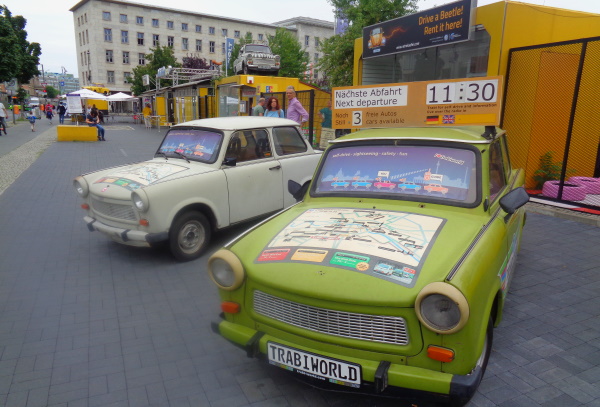 The Tarbant Safari goes through Berlin past the great sights. Most people book the short tour (about 75 minutes). This city tour with the Trabant in Berlin is called "Berlin Compact". The detailed tour (2h 15 min) is one hour longer and is called "Berlin XXL". Alternatively, you can also choose a US car (Mustang) for 10 Euro extra. But we think the Trabi is cooler.
The turning point is 30 years ago. Nevertheless the organizers of the Trabi safari in Berlin still have about 100 Trabis. Many of them can be seen on the Trabi-Safari grounds. Among them a Trabant police car and much more.
Prices and location Trabi-Safari Berlin
The city tours with the Trabant take place every day of the year and cost from 49 euros per participant (as of early 2020). More prices can be found on the links in the yellow box.
Departure is in Berlin Mitte only 100 meters from Checkpoint Charlie at Zimmerstraße 97 (corner Wilhelmstraße). Next door is also the World Balloon Berlin, where you can see Berlin from above in one of the largest balloons in the world.
The nearest subway station is Kochstraße (Checkpoint Charlie), maximum 5 minutes walking distance.
The departures of the Trabisafari Berlin are several times a day, 365 days a year. You can also find more detailed information about the times by clicking on the links of the individual tours in the yellow box.
The 4 most popular tickets for Berlin for 2023
1. TV Tower ticket: At Corona times, you can only go up to the highest building in Germany only by reservation (online tickets). At other times very often long waiting times without reservation: Link to the Tickets
2. Boat tour on the river Spree passing great sights (1 hour):  Link to the Tickets
3. Hitler-Bunker and Story-Museum: One of the most popular attractions in Berlin. Made a strong impression on us: Link to the Tickets
4. Ticket Illuseum Berlin: Great, modern museum about optical illusions, currently a hit in Berlin: Link to the Tickets