Pariser Platz, one of the city's finest addresses, is the square directly in front of the Brandenburg Gate. The Quadriga on the Brandenburg Gate looks out onto Pariser Platz. To the east, Pariser Platz leads into Unter den Linden.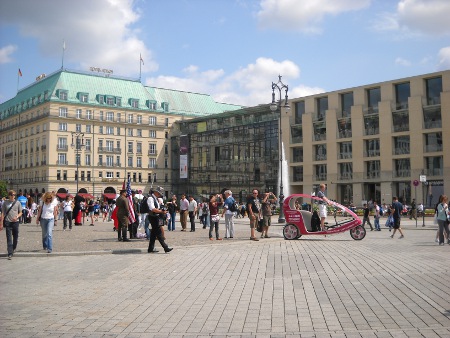 Many important people used to live on Pariser Platz. For example, Hitler's architect Albert Speer was so impressed by the ambience of Pariser Platz that he lived here. Painters and artists such as Max Liebermann also lived on Pariser Platz.
Today, banks and the American embassy have settled around Pariser Platz. The famous Hotel Adlon is located at the end of Pariser Platz and the beginning of the street "Unter den Linden".
Great boat tour for tourists Berlin center (1 hour)
Every day in the season thousands of tourists take a trip on an excursion boat in the center of Berlin. By far the most popular tour starts in the center of Berlin and passes many sights such as government district with Reichstag and Chancellery, Museum Island and Berlin Cathedral. The excursion by ship lasts about 1 hour and costs 18 euros. You should definitely book online, with a guarantee of a seat:  
The 4 most popular tickets for Berlin for 2023
1. TV Tower ticket: At Corona times, you can only go up to the highest building in Germany only by reservation (online tickets). At other times very often long waiting times without reservation: Link to the Tickets
2. Boat tour on the river Spree passing great sights (1 hour):  Link to the Tickets
3. Hitler-Bunker and Story-Museum: One of the most popular attractions in Berlin. Made a strong impression on us: Link to the Tickets
4. Ticket Illuseum Berlin: Great, modern museum about optical illusions, currently a hit in Berlin: Link to the Tickets