The 12 districts of Berlin
After reunification until the end of 2000, Berlin was divided into 23 districts. A reform was necessary, since these districts were of different sizes and the division still came from the times of the division of the city by the wall. Berlin was divided into 12 new districts (by the so-called district area reform). On the one hand, attention was paid to historical divisions, but also to roughly equal numbers of inhabitants. Today, none of the 12 districts of Berlin has less than 220,000 inhabitants, none more than 380,000 inhabitants.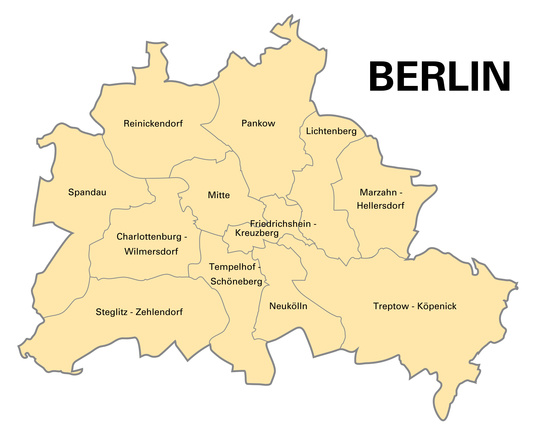 Picture: © JULA – Fotolia.com , Berlin Districts
Only three districts remained unchanged as a result of the district area reform in 2001. These were the former West Berlin districts of Reinickendorf, Neukölln, and Spandau. All other new districts emerged from the merger of two or three old districts.
The district of Berlin with the most inhabitants is currently Pankow in the north of the city with about 375,000 inhabitants. Spandau has the least inhabitants with about 230,000 inhabitants.
Since Berlin is much more densely populated in the city centre than on the outskirts, the districts vary greatly in size. The largest district is Treptow-Köpenick with 169 km² in the south-east of the city. However, large parts of this area of Berlin are covered with forests and lakes. The smallest districts of Berlin in terms of area are Friedrichshain-Kreuzberg (20 km²) and Mitte (40 km²). In the inner city districts up to 12,700 people live on one square kilometre (Friedrichshain-Kreuzberg). The population density in Treptow-Köpenick is nine times lower at 1,400 inhabitants per km².
Two of the districts extend across the former Wall border, i.e. are partly both in the former East Berlin and in West Berlin. These are the district Mitte and the district Friedrichshain-Kreuzberg, the two central districts of Berlin.
Each Berlin district has a mayor and a district assembly. Sies is a kind of district town council, which has however only very limited political power. The best known of the district mayors is currently by far Heinz Buschkowsky (SPD) in Neukölln. He has made headlines throughout Germany with his theses on integration policy. The north of Neukölln has long been regarded as the area of Berlin with the greatest social problems (high proportion of citizens with a migration background, high unemployment, etc.).
Each of the 12 districts is additionally divided into districts. Berlin currently has a total of 95 districts. The districts, which are large in area, usually have considerably more districts than the smaller districts. All these districts are signposted on the streets of Berlin.