The Nikolaiviertel is an old town quarter in the centre of Berlin. It is not a real old town – the Nikolaiviertel was almost completely destroyed during the Second World War. In the 80s, it was rebuilt more or less true to the original during the times of the GDR.
The Nikolaiviertel is not particularly large – it consists of 3-4 shorter lanes. The entire quarter is a pedestrian zone. It is bordered by the River Spree and the Red City Hall and is located in the absolute centre of Berlin. Although the GDR tried to rebuild the Nikolai Quarter in its original state, some houses show a certain prefabricated building technique at second glance. After the fall of the Berlin Wall, some buildings were renovated. Today, the Nikolai Quarter Berlin is probably the most beautiful quarter in Berlin Mitte. In particular, the narrow alleys and low houses stand in stark contrast to the boring prefabricated buildings and multi-lane streets of the GDR architectural style that are usually found in the surrounding area.
The 4 most popular tickets for Berlin for 2023
1. TV Tower ticket: At Corona times, you can only go up to the highest building in Germany only by reservation (online tickets). At other times very often long waiting times without reservation: Link to the Tickets
2. Boat tour on the river Spree passing great sights (1 hour):  Link to the Tickets
3. Hitler-Bunker and Story-Museum: One of the most popular attractions in Berlin. Made a strong impression on us: Link to the Tickets
4. Ticket Illuseum Berlin: Great, modern museum about optical illusions, currently a hit in Berlin: Link to the Tickets
The most famous building in the Nikolaiviertel is the Nikolaikirche. It is the oldest church in Berlin. Also the Nikolaikirche was almost totally destroyed in the Second World War and rebuilt with the whole Nikolai Quarter in the 80s, still in the GDR.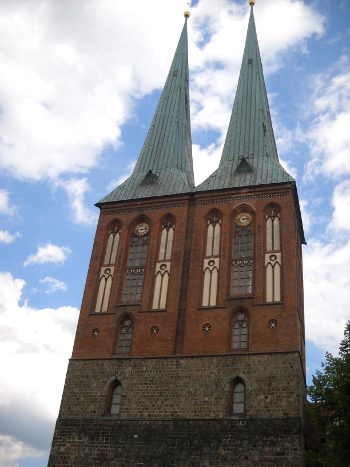 Directions to Nikolaiviertel: There is no direct underground station in the area yet. But it is under construction (U5). The stations Alexanderplatz and Klosterstraße are only a few minutes walk away from the Nikolai Quarter Berlin.