The Museum für Musikinstrumente is located almost directly at Potsdamer Platz in the centre of Berlin. In large rooms, musical instruments from the present and past centuries are on display. With over 3000 instruments, it is the largest musical instrument exhibition in Germany.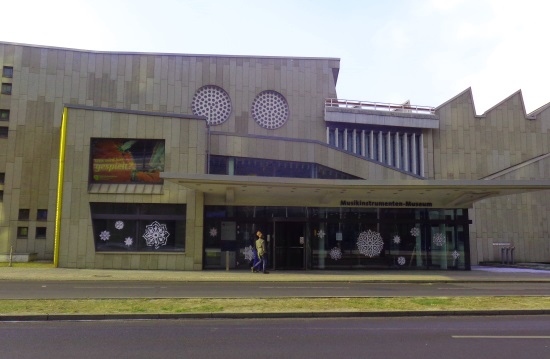 Admission 2022 Musical Instruments Museum Berlin
The entrance fee is 6 Euro, with a reduction of 3 Euro. Children up to 18 years can enter the museum for free!
We recommend the Museumspass Berlin for visitors to Berlin (valid for 3 days, over 30 museums). You can buy it on the internet on this website. The pass is also valid in the Musical Instrument Museum and in the other museums in the neighbouring Kulturforum (Gemäldegalerie Berlin, Kunstgewerbemuseum Berlin etc.).
Opening hours 2022 Museum für Musikinstrumente Berlin
Monday closed, Tuesday and Wednesday 9 to 17 o'clock, Thursday 8 to 20 o'clock, Friday 7 to 17 o'clock, Saturday and Sunday 10 o'clock to 17 o'clock.
Info Musical Instruments Museum Berlin
It is an old, state museum (opened in 1888) in modern rooms. Especially the old and rare musical instruments are interesting. We liked a harpsichord, a forerunner of the piano from the 16th century. We found a musical instrument in a walking stick funny. Fans of modern instruments such as electric guitars can also see a lot in the Musikinstrumenten-Museum Berlin. However, the focus is on old instruments from the 16th to 20th centuries such as pianos, violins and wind instruments.
The 4 most popular tickets for Berlin for 2023
1. TV Tower ticket: At Corona times, you can only go up to the highest building in Germany only by reservation (online tickets). At other times very often long waiting times without reservation: Link to the Tickets
2. Boat tour on the river Spree passing great sights (1 hour):  Link to the Tickets
3. Hitler-Bunker and Story-Museum: One of the most popular attractions in Berlin. Made a strong impression on us: Link to the Tickets
4. Ticket Illuseum Berlin: Great, modern museum about optical illusions, currently a hit in Berlin: Link to the Tickets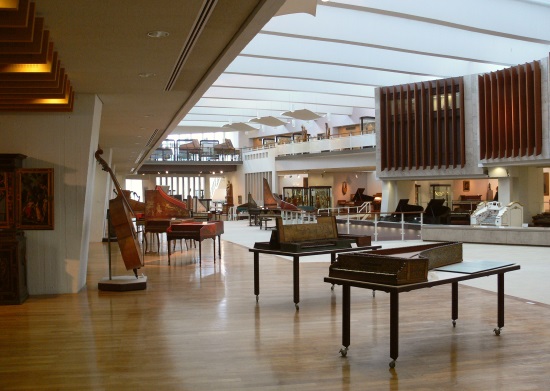 Picture: Andreas Praefcke – Photographed by himself, CC BY 3.0, Link
In the basement of the museum there is a cheap and good cafeteria. Many dishes for less than 5 Euro, also every day during the week a vegan and a vegetarian lunch. Every Thursday at 5 p.m. and Saturday at 11 a.m. there is a guided tour of the Musical Instrument Museum Berlin at Potsdamer Platz for 3 euros extra. The museum and toilets are suitable for wheelchair users. There is also a music library in the museum.