Berlin was the most important city for the Nazis. The largest exhibition on Nazis and Hitler is housed in a huge, multi-storey bunker. The permanent exhibition in the air-raid shelter in Kreuzberg is called "Hitler – how could it happen". In an estimated 100 rooms (3 underground floors) the life of Adolf Hitler from his birth in Braunau (Austria) until his death by suicide in the bunker at the end of April 1945 is depicted.
>>>   Buy tickets online for the Hitler bunker
Tickets and entrance Hitler Story Bunker
The entrance fee is 12 Euro, with audio guide (recommended) 13,50 Euro. Due to the large crowd, tickets for the Hitler Bunker should be purchased in advance on the Internet. >>>   On this link you will find the tickets for the Story Bunker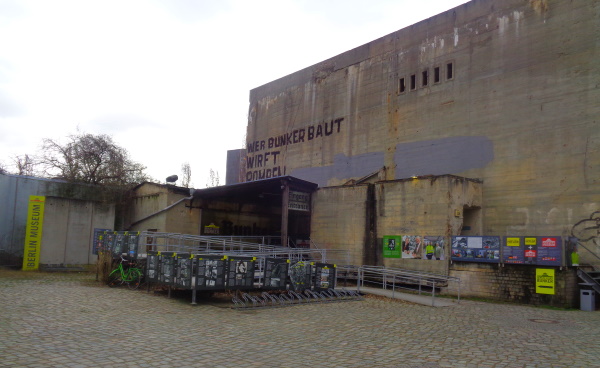 Overview Hitler exhibition in the Story Bunker
Nowhere else is there such a large museum about the Nazi era. The Hitler exhibition is divided into almost 40 sections. There is comprehensive coverage of the Nazis' serious crimes, such as the murder of millions of Jews in concentration camps and World War II. All in all, Hitler and the Nazis were responsible for the deaths of 70 million people worldwide, the greatest crime in the world's history.
For many visitors, the highlight of the exhibition is Adolf Hitler's workroom in the bunker. You can see his desk and much more. In this room Hitler took his own life, with poison and shot in the head.
We were very impressed by the museum in the Story Bunker Berlin. The texts, pictures and films are well done and depict the horrible deeds in more detail and accuracy than any other exhibition. Every Berlin tourist should consider visiting "Hitler – how could it happen". For the tour through the Story Bunker you should plan at least 2 hours. It is worth it!
Opening hours Story Bunker Berlin
Every day of the year, without exception, from 10 am to 7 pm (last admission to the documentary about Adolf Hitler is at 5:30 pm).
Directions Story Bunker Berlin
The Hitler Bunker is in the north of the district Kreuzberg not far from the border to the district Mitte.
The nearest station is the S-Bahn stop Anhalter Bahnhof (lines: S1, S2, S25, S26). Also only a few minutes from the Berlin Story Bunker is the subway station with the long name "U-Bahnhof Mendelssohn-Bartholdy-Park" (line U2).