The Gemäldegalerie Berlin is one of the largest art museums in Germany. The exhibition includes paintings from the 13th century to the 18th century from Europe. The museum owns more than 3000 paintings, more than 1000 of which are exhibited in the gallery. The Gemäldegalerie is the most important museum in the museum complex Kulturforum not far from Potsdamer Platz in the city centre of Berlin.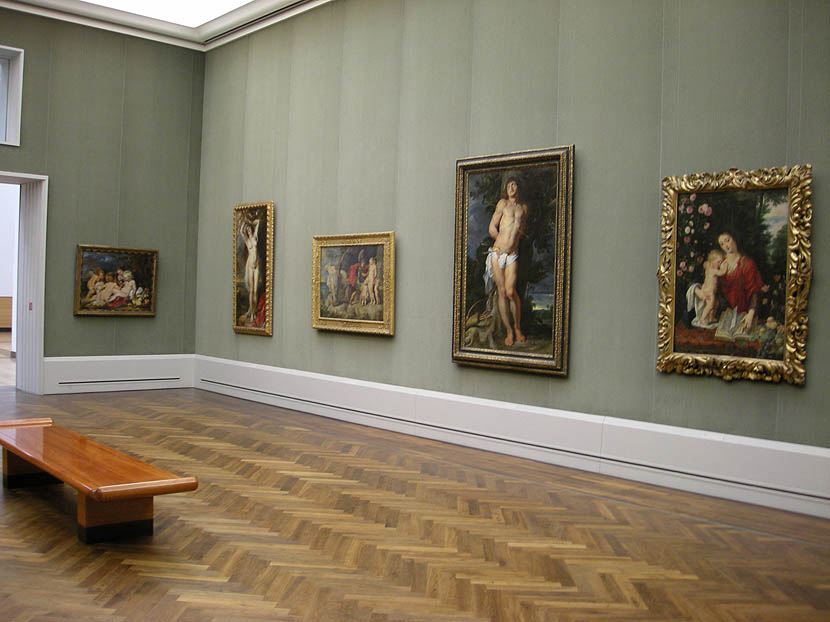 Rubens Hall, Picture: Von Barbarelli– Own work, Public domain, Link
Admission Prices 2022 Gemäldegalerie Berlin
If you only go to the Gemäldegalerie Berlin, you pay 10 Euro entrance fee, with discount 5 Euro.
The 4 most popular tickets for Berlin for 2023
1. TV Tower ticket: At Corona times, you can only go up to the highest building in Germany only by reservation (online tickets). At other times very often long waiting times without reservation: Link to the Tickets
2. Boat tour on the river Spree passing great sights (1 hour):  Link to the Tickets
3. Hitler-Bunker and Story-Museum: One of the most popular attractions in Berlin. Made a strong impression on us: Link to the Tickets
4. Ticket Illuseum Berlin: Great, modern museum about optical illusions, currently a hit in Berlin: Link to the Tickets
If you also go to the other museums in the Kulturforum (Berlin Museum of Decorative Arts, Kupferstichkabinett etc.) you pay 16 Euro or 8 Euro with discount. But the Musical Instruments Museum Berlin costs extra.
With the museum pass: We think that for many Berlin tourists the Museumspass Berlin is a very good thing. You can use your pass (29 Euro for adults at the beginning of 2019) for 3 days in more than 30 museums, also in the big museums on the Museum Island and in the picture gallery presented here and the other museums in the Kulturforum. The Museum Pass is available on the internet on this link.
Opening hours 2022 Gemäldegalerie Berlin
Monday closed
Tuesday, Wednesday and Friday: 10 a.m. to 6 p.m.
Thursday: 10 a.m. to 8 p.m.
Saturday, Sunday, public holiday: 11 am to 6 pm
Info Gemäldegalerie Berlin
The exhibition is divided into about 10 sections:
German Painters 13th to 16th Century
German painters 17th to 18th century
Italian painters 13th to 16th century
Italian painters 17th to 18th century
Dutch painters 14th to 16th century
Flemish painters in the 17th century
Dutch painters in the 17th century
Spanish painters 15th to 18th century
French painters 5th to 18th century
English painters in the 18th century
Highlights are, for example, the more than 15 paintings by Rubens or a similar number of works by Rembrandt. Many of the great Italian painters such as Botticelli, Bellini, Titian and Tintoretto are also represented in the Berlin Gemäldegalerie. You can also admire 7 works by Albrecht Dürer. The grandiose collection is complemented by loans from other museums.
Short Youtube video about the Berlin Gemäldegalerie