Schlachtensee is a large lake in the southwest of Berlin. When the weather is good, many people come to the lake. You can walk around the lake in about 1.5 hours, you can swim in the lake, lie in the sun, stop at a great restaurant with a beer garden or do water sports. Schlachtensee is very easy to reach with the Berlin S-Bahn.
The area around Schlachtensee is mainly forest. The footpath around the lake is mostly shaded, depending on the time of day. There are many places to swim at the lake.
Great boat tour for tourists Berlin (1 hour)
Every day in the season thousands of tourists take a trip on an excursion boat in the center of Berlin. By far the most popular tour starts in the center of Berlin and passes many sights such as government district with Reichstag and Chancellery, Museum Island and Berlin Cathedral. The excursion by ship lasts about 1 hour and costs 18 euros. You should definitely book online, with a guarantee of a seat:  
However, these bathing bays are quite small, and in summer it can get very crowded if the weather is good. There are many water sports enthusiasts on the lake with boats such as rowing boats or canoes. In the north of Schlachtensee, next to the restaurant and beer garden Fischerhütte, there is a boat rental.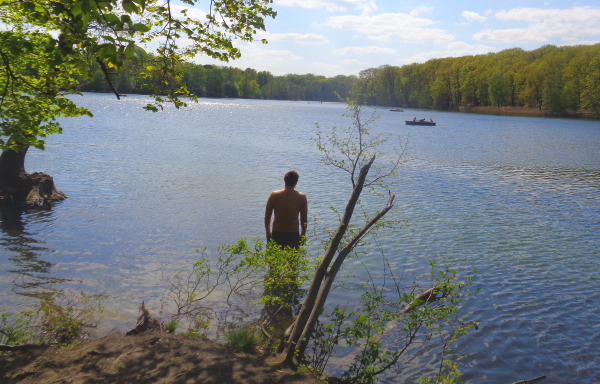 The footpath around Schlachtensee is wide and also suitable for prams. The circular path around the lake is flat and just under 6 km long. The S-Bahn stop called "Schlachtensee" on the S1 line is only about 100 metres from Schlachtensee. Around the lake takes about 90 minutes. It is an easy hike, actually more of a walk.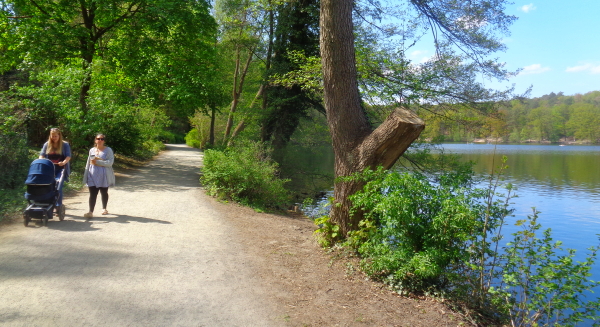 To the north of the lake is a well-known restaurant. There is also a popular beer garden in the "Fischerhütte". Next door is the boat rental (like stand-up paddlers) and a great playground for the kids. It is about a kilometre from the S-Bahn station to the restaurant.
If you walk away from the lake at the fishermen's hut, after about 500 metres you come to another great lake called Krumme Lanke. You can also walk around this lake, which is much smaller than Schlachtensee. The two lakes are connected by a canal (partly underground).
The famous Wannsee can also be reached on foot from Schlachtensee. It takes about 20 minutes to walk from the southern Schlachtensee to Wannsee. It is a little further to Nikolassee. The many large lakes in the southwest of Berlin are the Grunewaldsee chain.
At the S-Bahn station you can also get refreshments at snack bars and the like. Behind the S-Bahn is also a Rewe, a DM drugstore, a pharmacy, an Aldi and more.
The footpath around the lake is also a popular jogging route.