The Reichstag is a parliament building in Berlin Mitte. It has been the seat of the German Bundestag since 1999. The Reichstag was built at the end of the 19th century. The style of the building is strongly reminiscent of the Renaissance.
 >>>  Tours Reichstag / Bundestag: On this link you get more information and the tickets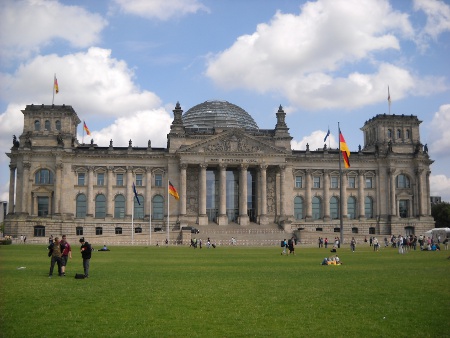 Reichstag or Bundestag Berlin
Paul Wallot was the architect of the Reichstag. After the Assembly of Deputies of the German Empire, the Parliament also met in the Reichstag during the Weimar Republic. During the Nazi period, no deputies met in the Reichstag. Exhibitions of Nazi propaganda could be seen in the building. Later in the war, a provisional hospital was set up in the Reichstag. After the Second World War, the Reichstag stood in West Berlin, in contrast to the nearby Brandenburg Gate.
The Federal Republic rebuilt the building, but it did not have the function of a parliament. After reunification and the historic decision of the German Bundestag to move the seat of government and parliament from Bonn to Berlin, the Reichstag was rebuilt. After the end of the construction work, the Reichstag was spectacularly veiled by the artist Christo for about two weeks in the summer of 1995. Then the German Bundestag moved into the Reichstag until today. The official name of the building is still Reichstag and not Bundestag.
Visit to the Reichstag / Opening Hours and Tickets
A guided tour through the Reichstag is only possible with advance reservation. For example, you can turn to the representative of your own constituency to receive an invitation or tickets. However, this is quite time-consuming and often takes a long time.
However, for some time now there has also been the possibility of buying tickets for guided tours of the Reichstag on the Internet. The guided tours are very popular and have good reviews. The tour through the Bundestag includes the plenary hall (session hall of the Bundestag), the famous dome on the Reichstag and the roof terrace.    >>>  Here you can find more information and the tickets
In front of the Reichstag there is a very large green area which is full of people in summer. Several other new government buildings are in the area. Especially striking is the Federal Chancellery (see picture below). Here is the seat of the Federal Chancellor of Germany.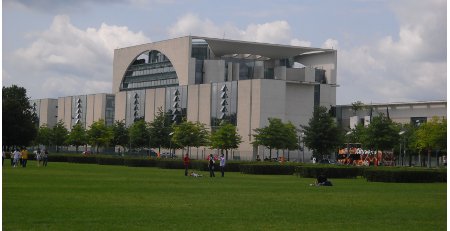 Federal Chancellery Berlin
How to get to the Reichstag: The Reichstag can be reached on foot in about 10 minutes from Berlin's new main railway station. If this is too far for you, you can also take the subway to one of the stations.
The Brandenburg Gate is about 5 minutes' walk from the seat of the German Bundestag. The seat of the Federal President is also not too far away. It is about 200 meters to the Pariser Platz with the most famous hotel of Berlin, the Adlon
Great boat tour for tourists Berlin center (1 hour)
Every day in the season thousands of tourists take a trip on an excursion boat in the center of Berlin. By far the most popular tour starts in the center of Berlin and passes many sights such as government district with Reichstag and Chancellery, Museum Island and Berlin Cathedral. The excursion by ship lasts about 1 hour and costs 18 euros. You should definitely book online, with a guarantee of a seat:  
>>>  Tours Reichstag / Bundestag: On this link you get more information and the tickets
Museum of Natural History Berlin Opening Hours – Charlottenburg Castle Opening Hours – Opening Hours Berlin Dom – Zoo Berlin Opening Hours