The Museum of Decorative Arts (Kunstgewerbemuseum Berlin) is a larger museum in Berlin not far from Potsdamer Platz in the so-called Kulturforum. It is one of the largest museums for arts and crafts in Europe. The Berlin Museum of Decorative Arts was founded over 150 years ago in 1867.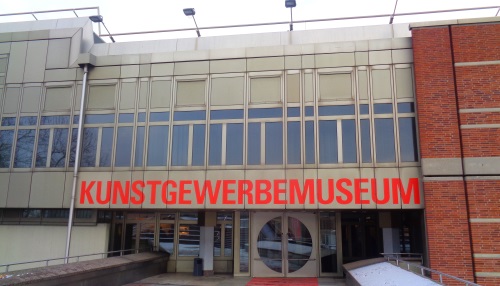 The Kulturforum near Potsdamer Platz in Berlin Mitte is one of the two locations of the Berlin Kunstgewerbemuseum. The other location is Köpenick Castle in the east of Berlin.
Admission fees 2021 Berlin Museum of Decorative Arts
If you only want to visit this museum, you pay 8 Euro entrance fee (with discount 4 Euro). Children up to the age of 18 do not have to pay admission to the Museum of Decorative Arts.
If you want to see all the exhibitions in the Kulturforum, you pay twice as much (16 Euro or 8 Euro with reduction). These include the Kupferstichkabinett Berlin and the large Berlin Gemäldegalerie. As far as we know, this does not include the neighbouring Musical Instrument Museum Berlin. The Museum of Decorative Arts is connected to the Gemäldegalerie by an underground passage.
Important: We recommend the Museumspass Berlin to museum visitors in Berlin. With this ticket you can visit more than 30 state museums in Berlin for 3 days for 29 Euro. The great museum pass is available on the internet on this link. The pass is also valid at the Museum of Decorative Arts and the other museums in the Kulturforum.
Opening hours 2021 Kunstgewerbemuseum Berlin
During the week from 10 am to 6 pm, on weekends from 11 am to 6 pm, Monday is closed.
Infos Kunstgewerbemuseum Berlin
In the Kulturforum near Potsdamer Platz, the Kunstgewerbemuseum has over 7000 m² of exhibition space. In addition to classics such as goldsmiths and silversmiths, the arts and crafts also include furniture, paintings, ceramics, porcelain and fashion (clothing).
There are many highlights in the Berlin Museum of Decorative Arts. The collection of fashion and costumes is internationally known. Medieval art from churches is also one of the most important exhibits. Also interesting are, for example, many pieces of furniture and tableware from the Baroque, the Lüneburger Ratssilber and porcelain from Meissen. You should also look at objects from the Italian Renaissance such as bronze sculptures, glasses, carpets and ceramics. Many visitors also like the blue ceramics from Delft. The most famous unique piece in the museum is the so-called dome reliquary from the Guelph treasure. The Art Nouveau department in the Museum of Decorative Arts in the Kulturforum Berlin is well worth a visit. Modern exhibits such as furniture from the 20th century (including the Bauhaus) can also be discovered in the Berlin Museum of Decorative Arts. The Berlin Museum of Decorative Arts is a large museum with many different exhibitions on the subject of arts and crafts.
3 minutes Info-Video Berlin Museum of Decorative Arts from Youtube