The street "Unter den Linden" (under the lime trees) is one of the most famous streets of Berlin and probably the best address of the city. It runs from the Brandenburg Gate at Pariser Platz to the Kupfergraben, a branch of the Spree. The total length of the street "Unter den Linden" is about 1400 meters. According to many Berlin residents, "Unter den Linden" has been the capital's central street since reunification.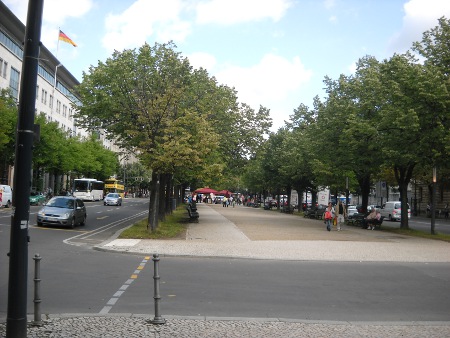 Street "Unter den Linden" Berlin
In the street "Unter den Linden" in Berlin Mitte there are many important buildings of places of interest. The famous Quadriga on the Brandenburg Gate looks down the street.
The Hotel Adlon, probably the most famous hotel in Berlin, is located not far from the Brandenburg Gate in "Unter den Linden". Other important buildings in the street include the Embassy of the USA, Humboldt University, Berlin State Library, Neue Wache, Embassy of Russia, State Opera House and Madame Tussauds Wax Museum.