The Alte Nationalgalerie is a large art museum on the Museum Island in Berlin. It is one of the 5 big museums on the river island. The others are the Bode-Museum (Art) and the 3 historical, antique museums Pergamonmuseum, Altes Museum and Neues Museum. In the Alte Nationalgalerie exclusively works of art from the 19th century are exhibited, the museum building worth seeing also dates from this time.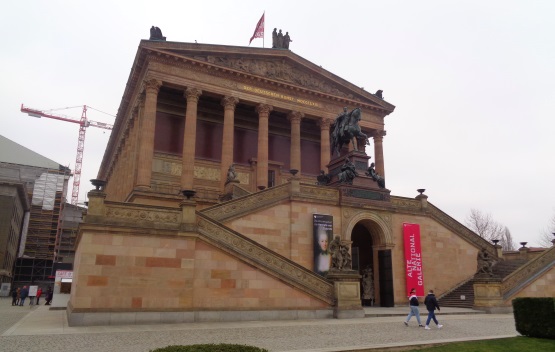 The Old National Gallery Berlin was planned by the then very well-known architect Friedrich August Stüler. When the gallery was completed in 1876, the architect had been dead for several years. The museum building of the Alte Nationalgalerie is reminiscent of a temple, we also liked the big stairs at the entrance. The building is a UNESCO World Heritage Site.
Entrance fees Alte Nationalgalerie Berlin 2022
If you only want to visit the Alte Nationalgalerie, you have to pay 10 Euro entrance fee (5 Euro discount). However, most visitors want to visit several or all museums on the Museum Island. In Berlin there is a museum pass for 3 days for 29 Euro. With this one has free entrance to many museums, altogether over 30 including all 5 on the Museum Island. You get the museum pass in the internet on this link.
Opening hours Old National Gallery Berlin 2022
10 a.m. to 6 p.m., closed on Monday, longer until 8 p.m. on Thursday evening.
Info Alte Nationalgalerie Berlin 2022
Only 19th century works of art, paintings and sculptures can be seen in the museum. All important styles of this century are represented. These include Romanticism, Impressionism, Realism and Classicism.
On the ground floor there are many sculptures, but also paintings. Well-known are, for example, sculptures by Johann Gottfried Schadow or paintings by Adolph von Menzel.
On the middle floor of the Old National Gallery Berlin, visitors can see paintings from Impressionism, Romanticism and Realism. These include such well-known artists as Spitzweg, Feuerbach, Monet, Renoir and Liebermann.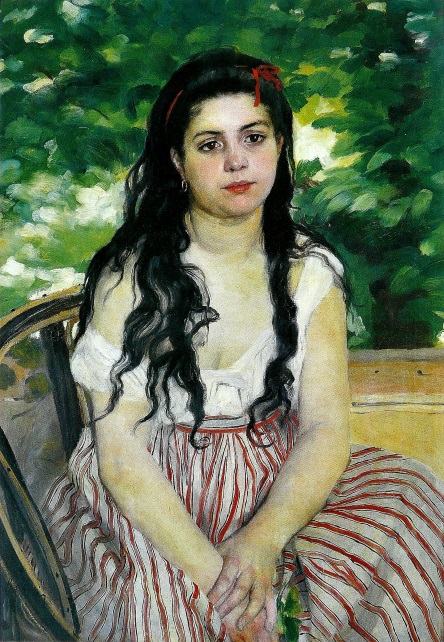 Pierre-Auguste Renoir: In Summer (1868)
Picture: – Renoir, peintre du bonheur : 1841-1919, de Gilles Néret, Cologne, Taschen, 2001, p. 26. ISBN 9783822857410, Gemeinfrei, Link
On the upper floor you will find particularly romantic works of art by Caspar David Friedrich, Peter von Cornelius, Friedrich Schinkel and many others.
Great Youtube video about the gallery (3 min)
Close by: German Historical Museum