Bellevue Castle is the seat of the Federal President of Germany. It stands in the park Tiergarten almost directly at the river Spree, the big park in Berlin Mitte. Bellevue Palace dates from the late 18th century and was built by the Prussian Prince and General Ferdinand.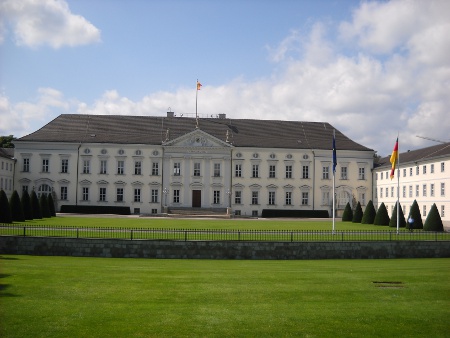 Schloss Bellevue Berlin
Bellevue Castle was already an official residence of the Federal President at the time of the division of Germany. However, it did not become the first official residence until a few years after reunification (1994). Before that, Villa Hammerschmidt in Bonn was the official residence of the head of state of the Federal Republic of Germany.
The incumbent Federal President of Germany, since 2019 Frank-Walter Steinmeier (SPD), can live with his family in Bellevue Castle. However, most German presidents like Christian Wulff did not live in Bellevue Castle. Also worth seeing is the old Berlin fire alarm at the bus stop in front of the castle.
Directions to Bellevue Castle
The tourist bus line 100 of the Berliner Verkehrsbetriebe stops directly in front of the castle. Nearby is the Victory Column (in the middle of the Tiergarten Park). Also the Reichstag (German Parliament) and other government buildings are not too far away.
The next underground station is called Hansaplatz (underground line 9), the S-Bahn station nearby is called Schloss Bellevue. Both stations are a few minutes walk away.
Opening hours Schloss Bellevue
As far as we know, the Schloss Bellevue is generally not open to the public. Bellevue Castle can only be seen from a distance. Sometimes, however, there is an open day or an event, when you can see the president's seat.
By the way, the name Bellevue comes from the French language and means "beautiful view".
More travel guides:
At www.london-reiseinfo.de you can find information about the British capital.
The Dresden Castle, another important castle in East Germany.
All Herculaneum Tickets (near Naples, Italy)