Eastgate is a shopping centre in Marzahn, a district in the east of Berlin. It opened in 2005 and was one of the most modern shopping centres in Germany at the time. Especially the ultra-modern architecture was much praised at the time. Eastgate is right next to the Marzahn S-Bahn station.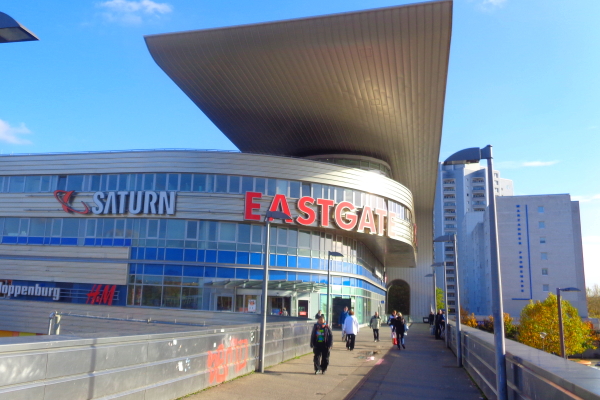 It's still a great shopping centre, but now one of many. There are now about 10 shopping centres in Berlin that are bigger than Eastgate at Marzahn station. But it's still the big shopping complex in Marzahn and Hellersdorf.
The 4 most popular tickets for Berlin for 2023
1. TV Tower ticket: At Corona times, you can only go up to the highest building in Germany only by reservation (online tickets). At other times very often long waiting times without reservation: Link to the Tickets
2. Boat tour on the river Spree passing great sights (1 hour):  Link to the Tickets
3. Hitler-Bunker and Story-Museum: One of the most popular attractions in Berlin. Made a strong impression on us: Link to the Tickets
4. Ticket Illuseum Berlin: Great, modern museum about optical illusions, currently a hit in Berlin: Link to the Tickets
These districts are considered the largest prefabricated housing estates in Germany, built in the former GDR. The Eastgate shopping centre has significantly upgraded the surrounding area. Eastgate has two floors of shops, and there is a large car park on the roof.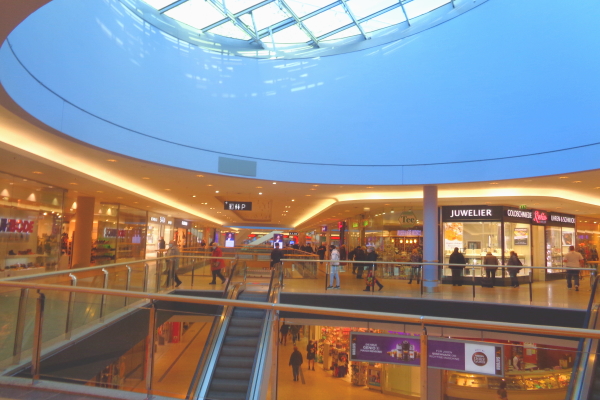 A pedestrian bridge leads directly to the S-Bahn (see picture at the top). The tram stops right next to the shopping centre. The shopping centre is roughly square. On both floors there is a circular walkway with shops on both sides. The shops in Eastgate Marzahn are complemented by a wide range of restaurants, bowling alleys and a modern cinema.
The large, well-known shops in Eastgate include C&A, Peek & Cloppenburg, Thalia Books, Reno Shoes, Deichmann Shoes, Foot Locker Shoes, Saturn Electronics, New Yorker and Tchibo. Well-known fast-food chains are McDonald's, Nordsee and Burger King. But there are also kebabs, Asian food, Indian food, cafés, an ice cream parlour and much more.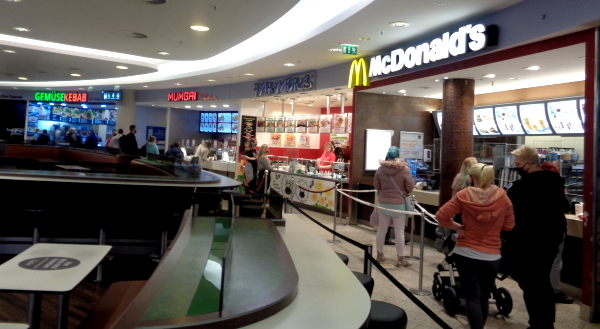 Behind the Eastgate shopping centre there are also other shops outside, some of whose buildings date back to the times of the GDR. We found the Chinese restaurant Neu Wuzhou very good and inexpensive (very cheap lunch until 4 pm).
There is a REWE supermarket in the Eastgate shopping centre, and a Netto 100 metres behind the centre. There is also a Vitalia health food store in the shopping centre. Drugstores are present with both Rossmann and DM. We also saw a jeweller, an optician, several banks such as Deutsche Bank and Sparkasse, a travel agency, a hairdresser, a sweet shop (Hussel), a perfumery and much more in or around Eastgate.
The Eastgate in Berlin-Marzahn is a typical, large shopping centre like many in Germany and Europe. It still looks more modern than the average. There are a total of 130 shops in the centre and many more in the surrounding area. In addition, there are about 20 gastronomy businesses in Eastgate and a few more behind it. Around Eastgate you can see typical GDR prefabricated buildings.